Welcome

The Teaching Support Centre offers a large range of services and resources to support all those involved in teaching: teachers, doctoral assistants, post-docs, sections and students.
Our next workshops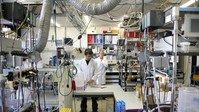 How can we maximize the development of skills like project management, creative thinking or team work? This intensive workshop focuses on students' transversal skill acquisition in active learning environments, especially authentic or interdisciplinary projects.
We will explore how whole university programs can be designed to gradually develop and assess transversal skills, and thus provide students with a coherent framework to valorize their learning path towards employability and lifelong learning.

Explore ways to design lab experiments that help students develop a scientific approach which is transferable to real world complexity.
By: Siara Isaac & Cécile Hardebolle