Bienvenue

Le Centre d'Appui à l'Enseignement offre une large gamme de services destinés à tous les acteurs de l'enseignement à l'EPFL : enseignant-e-s, assistant-e-s doctorant-e-s, post-doctorant-e-s, sections et étudiant-e-s.
Nos prochains ateliers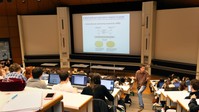 What does it mean for students to be motivated? Why should I be concerned about improving my students' motivation and interest for my course subject? What can I do to avoid typical situations of students' lack of motivation (i.e. absence, lack of interaction, distractions)? 
After this workshop you will be able to identify different sources of student motivation, distinguish its different dimensions, and integrate various motivational strategies adapted to your students and specific teaching context.

 In this workshop participants discuss how different motivational strategies can be adequate to their specific teaching and learning scenario. The workshop explains the various approaches to student motivation and presents ways to avoid its lack such as absences, lack of interaction and distractions.
This interactive one-day workshop for doctoral assistants and post-docs targets the development of skills to maximize student learning.

By focusing on PROJECTS, this workshop will develop your ability to:
support students facing typical difficulties of real-life open-ended projects such as working with incomplete data or coping with risk and uncertainty
guide students through project phases while ensuring that they develop professional skills such as project management and solution design skills
help students work together collaboratively on projects
organize project guidance and supervise several students teams
assess students learning based on reports or presentations while taking into account both individual and group contributions
Organized through "hands-on" activities based on science content, this workshop allows you to practice and get feedback on evidence-informed teaching skills rather than just hearing about them.
Note: This workshop is independent but complementary to the other 3 in the series. You are welcome to attend as many as you like, in any order you like.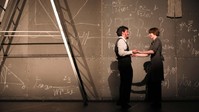 Do they hear me? Exploring breath and voice and articulation.
Do I allow myself being seen and heard? Exploring bodily tension and release as basis for facing an audience and dealing with stage fright.
What if the situation turns out differently than planned? Paying attention to the here and now as basis for improvising and spontaneous solutions.
How can I hear them? Caring for your audience as basis for developing an engaged learning/teaching situation.